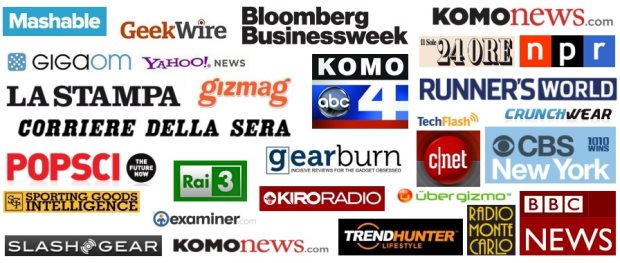 At Heapsylon (the maker of Sensoria Fitness) we believe that after PC's, smartphones and tablets... In the near future most pieces of clothing will come with embedded microelectronics and sensors. Our vision is that "The Garment is the Computer."
If you want to reach your goals, avoid injuries or recover faster from one, Sensoria is the ONLY fitness tracker that tells you how hard... AND how well you exercise. The Sensoria Fitness experience brings together:
A smart sock completely made of fabric, which can go through wash & dry cycles.
An electronic anklet that magnetically snaps on the cuff of the sock.
A mobile application that monitors and guides you through real-time audio cues.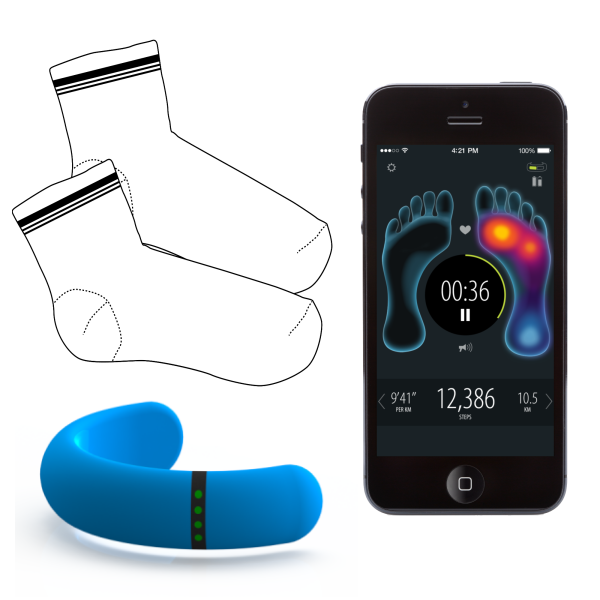 Exercising with Sensoria means learning more about your body and how to achieve your goals.
When you sit down for too long Sensoria will let you know. Time to stand up and move.
And... if you are by yourself and fall Sensoria will alert your loved ones!
Learn how far, how fast, but more importantly HOW WELL you exercise, walk or run. Reduce impact, run pain-free, and run happy!
You'll be able to experience workouts tailored to your body that take in account the impact of terrain, foot striking, posture and cadence. When you go home you won't just look at pretty charts; you'll be able to analyze in detail what you have done well, for how long and what action you can take to get to the next level. Your personal time machine for fitness.
Get fit. Improve performance. Avoid injuries or recover faster from one!
---
The Sensoria Fitness app will be available for iPhone (iOS 6 and above), Android (OS 4.3) and Windows Phone 8.x (subject to BlueTooth Smart support required, expected to be supported in an upcoming release).
...And if you prefer to run WITHOUT a phone no worries! You can still access your data from home thanks to our easy to use dashboard.
---
Why Sensoria Fitness?
The Most Accurate Fitness Tracker
Unlike any other activity tracking device on the market we combine accelerometer technology with our proprietary textile sensors, appropriately positioned under your foot. Sensoria Fitness provides you the most accurate step, altitude and calorie counter ever developed.
Cadence Metronome
When you go running you want to stay in the rhythm. Sensoria Fitness lets you select your desired stride frequency range and alerts you with audio cues when you need it.
Foot Landing Gauge
Thanks to our proprietary e-textile sensors Sensoria Fitness detects where your foot lands on the ground in real time. It helps runners avoid potentially dangerous techniques: heel striking or excessive forefoot running that could lead to back pain or Achilles tendon injuries.
Stride Analyzer
Sensoria Fitness provides you with your cadence monitoring and average stride length and compares you with people like you to improve performance.
Social... As You Wish!
All the data is yours and exclusively yours to track and analyze. When you decide to share your data you get actionable information from people like you, sharing the same goals, to help you reach your target.
---
Smart Socks, Bluetooth Anklet and Mobile App
Our sensor filled sock is comfortable, washable and designed for runners. Smart fabric sensors send pressure data to the Sensoria Anklet which uploads data wirelessly either via your computer or through your smartphone when you are out and about. The simplified Gait analysis data is then added to your dashboard for either retrospective analysis or instant coaching. Check out this video:
The Sensoria Anklet comes in four very cool colors (black, white, pink and light blue) so you can match your outfit and the color of you shoes!
---
Technical Specs